How Adyen Used Earned Media to Increase Consumer Engagement
Who Averaged Spending
172 seconds
With each piece of content (1.87X increase)
They Achieved
39% of Visitors
Actually Engaging with Content
The Goal: Increase Engagement on Adyen's Website
Adyen's main objective when employing AI-powered content distribution was to increase engagement, using earned media to drive users back to their website.
Our Solution: Use Earned Media to Drive Consumer Engagement On Site
inPowered amplified earned media articles written about Adyen to drive high volumes of pre-qualified users back to their own website. inPowered's AI-Powered Content Distribution enabled Adyen to test almost 1,000 variations of ad permutations by analyzing various headlines, images, audience interests, and demographics; adjusting the campaign in real-time to re-engage readers as evaluated on a cost-per-engagement metric. inPowered's technology then showcased the right call-to-action after 15 seconds of engagement to drive users interested in learning more about the company from their earned media to Adyen's own website.
Reduced Cost-Per-Engagement by 81%
5% Next Action CTR
CONTENT:
This campaign centered around three press placements about Adyen from Digital Commerce 360 and Women's Wear Daily, focusing on predictions around the future of the retail industry. The amplified articles were about "Big cities vs. backroads: how America shops," "The overlooked power of Chinese shoppers" and "The Future of Retail Isn't What Happens Tomorrow."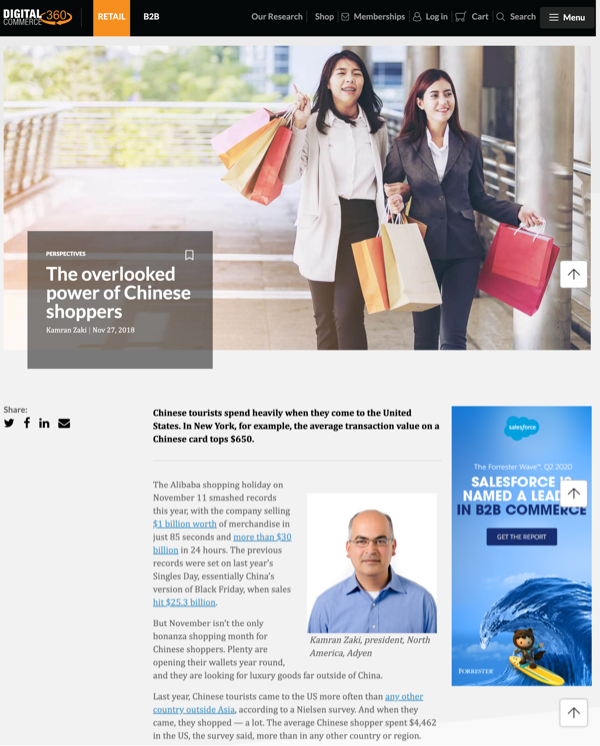 AUDIENCE:
Adyen utilized inPowered's AI-Content Distribution to run 966 different ad permutations across Yahoo, Twitter and Taboola; utilizing extensive testing to identify a target audience that was interested in reading more about Adyen and B2B-related topics. They analyzed each piece of content with a larger audience set, which included:
Men and women.
Ages 25-34, 35-44 and 45-54.
On Twitter, specific age groups targeted were 21-34, 35-64 and 55-64.
Living across the United States of America.
Users on desktop and mobile devices (iOS and Android).
Interested in a variety of related topics including "Business & Technology," "B2B Professions," "Business Services," "Tech News," "Mobile Technology & Computing," and "Investment Technology."
Using inPowered's AI-technology, it was determined that the audiences most interested in continuing engagement with content related to Adyen were:
Females ages 25-34 and 35-54 across the USA.
Mobile users, specifically on Android.
Self-identifying as having a strong interest in "Technology," "Business & Technology," and "Business & Finance."
CALLS-TO-ACTION:
With the primary goal of this campaign being to re-engage pre-qualified users, as well as direct traffic from Adyen's earned media to their own website, they employed inPowered's Content Distribution to apply "Related Stories" next actions across each piece of content to further drive user interest and interaction. Using inPowered's AI, they were able to determine that "Unified commerce in North America: a $1.2 trillion opportunity," and "See the results: Find out how rural shoppers in the US stack up to shoppers in other areas" were the two top related stories users were interested in reading next. By testing these various calls-to-action and related stories, it also allowed the B2B company to improve refining content creation strategy — optimizing future content amplification towards the posts clearly performing best and tailor it to this newly-determined engaged audience, as shown thru inPowered's unique platform & data points.
Trusted by the world's leading brands